Welcome to Alfie & Lu.
A small family run business specialising in supportive, British made dog bedding. High quality fabrics, superior comfort and practical washing options are our main focus. You can also find a selection of handmade accessories that will make your dog stand out from the crowd.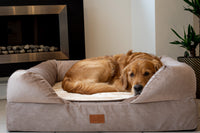 The Lounger Bed *New Style*
We've made a few adjustments to the original Lounger bed in order to create a bed that suits every dog! The new style has a super soft, snuggly detachable mattress topper that can be removed for a quick wash or remove the whole cover for a more thorough wash!
Shop Now
The Luxury Nest Bed
Lovingly designed to make your dog feel safe and secure while they're sleeping as well as keeping them incredibly warm and cosy. This bed will appeal to your dog's natural nesting instinct to create a calm sleeping environment and help reduce anxiety. The Luxury Nest has a lowered entrance for easy access and is surrounded by a huge wrap around bolster making it perfect for dogs who like to snuggle and nest down in to their beds.
Shop Now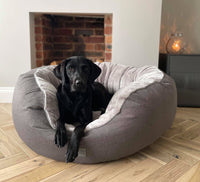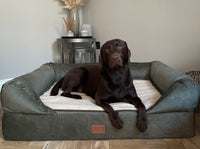 Lounger Bed Colour Combinations
The Lounger Bed is available in five different colour combinations and four different sizes as well as offering the choice between a fibre mattress or an orthopaedic memory foam mattress. There really is something to suit every dog!
SHOP NOW
*NEW* Eco Travel Mat
With the soft side made entirely from recycled plastics this travel mat is eco friendly, versatile, compact AND cosy! It's padded to provide your dog with comfort wherever they go and you can do your bit for the environment at the same time! Just roll it up and hold with the convenient carry handle. Essential for those who love to travel with their dog. 
SHOP NOW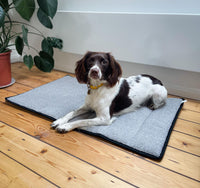 Testimonials
I have one of these and a spare cover and it's outlasted any others that I've bought and my dog loves it. Best bed I've ever bought!

Trudi, York
Just received my Freddie's new bed. He barely waited for me to get it sorted before he was in! I have been looking for a super comfy and supportive bed for him as he has hip and elbow dysplasia. We've had cheap beds before and he's not been interested at all. This is beautifully made and I am very optimistic that he will finally be able to get a good nights, restful sleep. Thankyou for making such a quality bed and for the incredibly speedy delivery. Woofs and licks from Freddie.

Sally-Anne, Peterborough
Best bed I've ever bought in 35 years. Worth every penny. Thankyou!

Susan, Loughborough