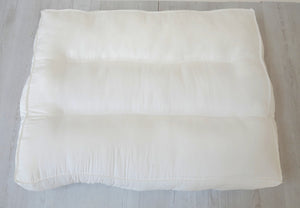 Fabric Remnant Mattress
In an attempt to cut down wastage on fabrics I've began collecting all the remnants and used them to fill some mattresses. Once filled these mattresses feel soft like the fibre mattress but they are a lot heavier and denser due to the fabrics used (despite being very soft and comfortable, they may be a little lumpier!)
Price is significantly lower than my usual mattresses. Fabrics used to fill are predominantly plush fleece fabric remnants and upholstery fabrics from the Lounger beds. May also include some foam depending on what is available at the time you order. 
Purchase as a mattress only or with cover and bolster and I will send as a whole bed. Please choose from the drop down menu and write which colour cover you'd like in the notes at checkout!
(Bolster would be filled as usual with fibre).